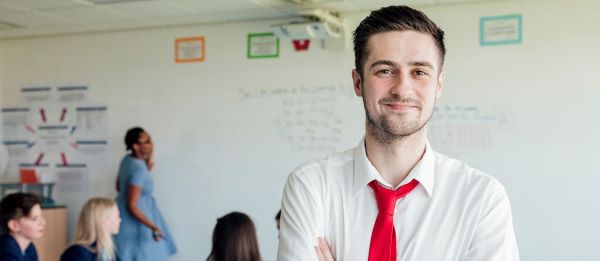 Increase your teaching talent with the Future Teachers Programme
Date posted :
24 February 2023
The current teacher shortage is set to be one of the main challenges for the UK in 2023. The number of graduates entering the profession is decreasing, while the number of teachers leaving has increased. The recent strikes are symbolic of teacher dissatisfaction over working conditions. The Department for Education's initial teacher training figures for 2022 show that just under 29,000 graduates signed up, a 20% fall compared with 36,000 in 2021. The figures are worse for secondary school recruitment, where they are at 59% of the DfE's annual target, well below the 79% reached in 2021. Research by the National Education Union found that 44 per cent of teachers plan to leave schools altogether by 2027
What if you could grow your own teachers?

Teaching Personnel's Future Teachers Programme helps schools take control of their long-term teacher recruitment strategy and reverse this trend. We can help you to grow your own teachers.

The programme offers graduates a flexible route into a teaching career. They can explore a career in education before committing to Initial Teacher Training (ITT). And if both parties enjoy the experience, your Future Teacher can return after completing their PGCE.

Our Future Teacher Programme from Teaching Personnel is helping schools across the country. One example is United Learning's Swindon and Wiltshire Teaching School Hub, which works in partnership with Teaching Personnel to run a programme that provides future teachers for schools across a number of MATs.

Stuart Ingram, Regional Director of United Learning, explains how the programme has benefited United Learning. "Firstly, it decreases any in-school variation in regards to the quality of teaching, and there are also financial benefits to it as well. It does reduce staff costs for us at the school level and at the trust level," he says.

Rob Price, Director of Education at Acorn Trust, explains: "Recruitment is so hard, and this is a way of bringing in quality people. The support you get from The Hub is excellent, and it allows you to bring in really good graduates and make them your own."

Benefits for the school

Successful graduates provide your school with high-calibre cover managers. The Future Teacher Programme provides immediate and long-term benefits for schools. These include:

Save on the cost of hiring supply staff.
Deliver one-to-one and small-group tuition.
Secure a source of experienced graduates who can go on to be leaders.
Reduce the risk of hiring someone who isn't cut out for teaching.
Improve retention as teachers.

Rob says, "What we have seen with graduates following this route is that they are very strong. They're ready for the classroom. They're put through the wringer, and they hit the ground running."

Helping with retention

With the programme, promising graduates get to explore if teaching is a career for them. The programme enables them to understand more about teaching and build up practice and skills. Often a graduate's only experience of education is through being a student, and this programme enables them to:

experience life as a teacher.
understand education and teaching.
build up a rapport with students and staff.
understand your school values and environment.
develop skills in teaching, discipline, and communication.

Natalie McKay, Deputy Director for Swindon and Wiltshire Teaching School Hub, says, "We recruit people from the very early stages of working as a cover teacher and train them in their school with the view that they will have a leadership role in the future."

With the number of teachers leaving last year (4,000 more departures in 2020-21 than the previous year) a programme such as this can help with staff retention.

How the Future Teacher process works

Emma Dawson, Headteacher, Thundersley Primary School, speaks about the quality of the programme. She explains, "We have been absolutely delighted with the Future Teachers we have recruited through Teaching Personnel. We have found the individuals to be well prepared to take on their interim role in school and keen to learn in the year prior to the start of their Initial Teacher Training."

Teaching Personnel:

recruits, vets, and pre-interviews graduates interested in a teaching career.
work with schools to manage the interview process.
ensures graduates meet your required standards.
checks graduates are a good fit for the school.
provides advice and support for the graduates (alongside any in-school mentoring your school provides.)

Future Teachers

The Future Teachers Programme provides a flexible recruitment solution for schools. The programme can take various paths at the end of the placement. Schools can help their graduates to find ITT programmes. Swindon & Wiltshire Teaching School Hub take successful Future Teachers on contract, into their School Centred Initial Teacher Training programme and into a full-time ECT role within the MAT.

To learn more about the programme and find Future Teachers for your school, contact us today. Call: 0845 674 4844 Web: https://www.teachingpersonnel.com/contact


Keeping Children Safe: Practical Steps and Resources for Primary Schools 
Summary
While it is true that "accidents will happen", keeping children safe and preventing as many accidents as possible should be a concern of every school. By raising awareness of risk sensitively, schools
Read more Breaking the Stigma: How Teachers Can Support Children's Mental Health in the Classroom
Summary
In the last three years, the likelihood of young people having mental health problems has increased by 50%. According to a report by The Health Foundation, one in six children aged six to 16 in Englan
Read more Using AI to Reduce Teacher's Workload
Summary
In 2023, it is impossible to watch the news without an item discussing the threats posed and potential benefits offered to society by Artificial Intelligence (AI).  Most people, by now, will have t
Read more Embracing Flexible Work in Schools
Summary
There is little doubt that school leaders across the country are facing a recruitment and retention crisis. It is a simple yet frustrating equation; fewer people are entering the workforce than ar
Read more Why schools should book cover for September now
Summary
Teacher recruitment is a critical aspect of any school's success. Finding the right teachers and support staff to lead and inspire the next generation of students is no easy task, and it is one th
Read more Why retired teachers make the perfect tutors
Summary
When you worked as a teacher, you may have looked forward to retirement, as it meant having more time for leisurely activities or spending more time with loved ones. However, the novelty of retire
Read more Chartered College of Teaching Partnership
Summary
Teaching Personnel is proud to announce a new partnership with the Chartered College of Teaching, the leading professional body for teachers and teaching assistants. This partnership will provide
Read more How do I know I want to be a teacher?
Summary
Teaching can be an enriching and fulfilling profession. If you want to make a difference in someone's life, there is no better job than to teach. Like doctors, nurses and vets, teaching is more than
Read more Pupil Interventions and closing the attainment gap
Summary
Pupil interventions refer to strategies and techniques used to help pupils who are struggling. The approach and type of intervention depend on the individual needs of the student. Using a struct
Read more