Behaviour Management Strategies for Primary Teachers
Date posted :
12 October 2018
Whether you're a Early Career Teacher or have decades of experience working with primary pupils, behaviour management is always a challenge. This is particularly the case at the start of the school year when a fresh crop of pupils arrives in your classroom.
For teachers, effective behaviour management underpins almost every teaching and learning success. Indeed, primary schools with behaviour judgements ranked 'good' or 'outstanding' have better outcomes in maths and English at KS2 than schools with 'satisfactory' or 'inadequate' behaviour judgements.
While Ofsted reports show that English schools are largely orderly, well-behaved places, even low-level disruption in schools can be disastrous for both students and teachers. This makes it essential that teachers and teaching assistants have strategies up their sleeves to ensure behavioural standards are maintained. Let's look at four of the best approaches: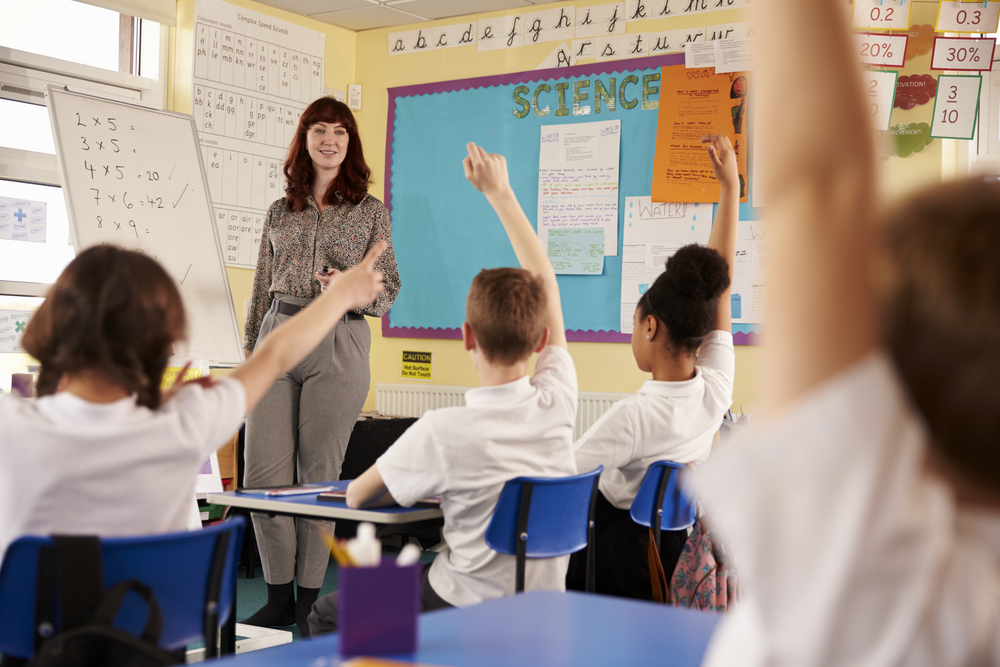 1. Use the CASPER approach
The CASPER approach is a handy tool to help you remember key steps and ideas when approaching and dealing with behaviour management. It can be used before taking any action:
Calm: Appear calm, even if you don't feel it. Take a breath and stop to think
Assertive: Maintain your authority and remember you're in charge. Maintain eye contact
Status preservation: Reprimand pupils in private to remove them from their peer group
Empathy: Try to understand how the pupil is feeling. Avoid asking challenging questions
Respect: Always show children respect, even if they are being disrespectful. Reinforce your expectations by modelling appropriate behaviour
2. Establish a countdown routine
Show pupils you're prepared to give a little by using a countdown system to call for attention.
Rather than abruptly stopping classroom conversations, instead, count down from 10 to give pupils a chance to finish what they're doing and be ready for the next instruction.
This is a polite and fair way to establish silence and attention, and acknowledges that some children may need a few seconds to get ready. Pupils may join in on the count down and you can use praise to reinforce the importance of adhering to this rule.
3. Reward and reprimand
There's a reason why the carrot-and-stick approach is used in industries and professions the world over: it works.
Research shows that education is not exempt from this: schools with good standards of behaviour use a balance of rewards and sanctions to motivate and penalise pupils.
Before implementing any new reward or penalty systems, check with your school to ensure your approach is consistent and in line with policy.
Detentions, removal from classroom and exclusion from social or 'treat' activities can all be used to deter students from inappropriate or unruly behaviour, while those who demonstrate good behaviour can be rewarded with praise, stickers, small treats and opportunities – for example, handing out resources to the classroom or acting as a teacher 'helper' during a lesson.
4. Set clear expectations
Pupils have less of a chance to misbehave if they know exactly what is and isn't acceptable in the classroom.
In order to create a well-managed, structured classroom environment that caters to a range of different learners and attention spans, you must put in the effort to establish rules, guidelines and expectations.
Not only should you map out 'house rules', you should also be clear on the repercussions of not following the rules – and the rewards for those pupils who are consistently well behaved. A good set of primary classroom rules may look like the below:
We listen to each other and only have one person talking at a time
We are quiet by the end of the 10 second countdown
We put our hands up before speaking
We don't touch each other or each other's things unless we are invited to
We take care of our belongings and the classroom belongings
We use kind words to each other
We finish our work on time
We say 'please' and 'thank you'
We keep our classroom tidy
We always try our best
Find your next primary teacher job
At Teaching Personnel, we help teachers of all levels achieve their career ambitions. Find your next primary teacher job now or contact us to see how we can help.



5 Tips for Managing Your Teaching Workload
Summary
Teaching is a rewarding profession that plays a crucial role in shaping our society's future. However, it comes with its challenges. The workload can be demanding, which might sometimes lead to feelin
Read more




Keeping Children Safe: Practical Steps and Resources for Primary Schools 
Summary
While it is true that "accidents will happen", keeping children safe and preventing as many accidents as possible should be a concern of every school. By raising awareness of risk sensitively, schools
Read more Breaking the Stigma: How Teachers Can Support Children's Mental Health in the Classroom
Summary
In the last three years, the likelihood of young people having mental health problems has increased by 50%. According to a report by The Health Foundation, one in six children aged six to 16 in Englan
Read more Using AI to Reduce Teacher's Workload
Summary
In 2023, it is impossible to watch the news without an item discussing the threats posed and potential benefits offered to society by Artificial Intelligence (AI).  Most people, by now, will have t
Read more Embracing Flexible Work in Schools
Summary
There is little doubt that school leaders across the country are facing a recruitment and retention crisis. It is a simple yet frustrating equation; fewer people are entering the workforce than ar
Read more