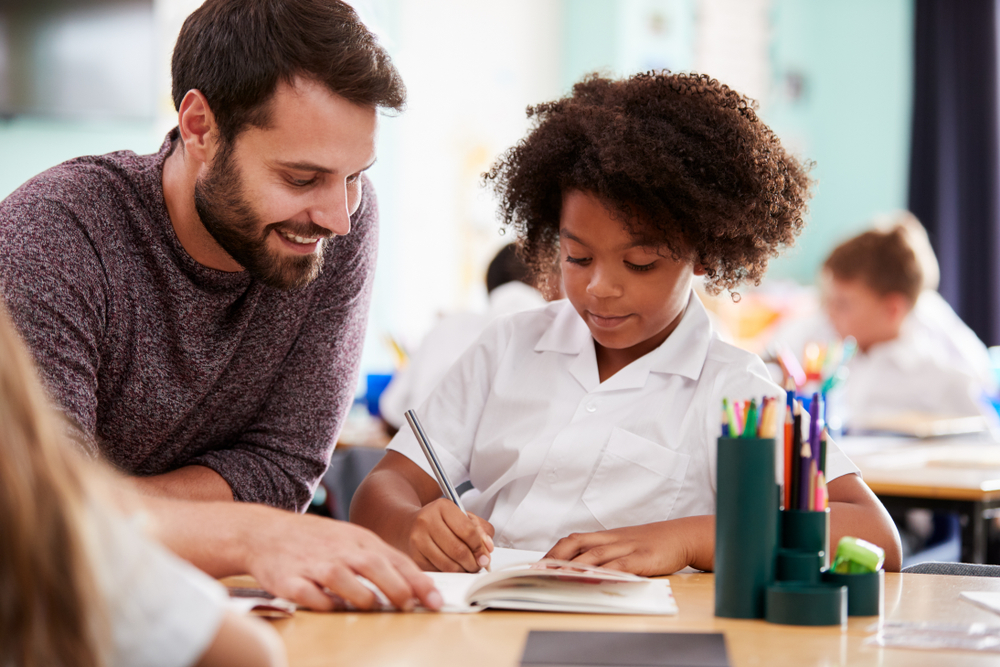 How leaders can support their teachers' wellbeing post-pandemic
Date posted :
17 January 2022
Teaching is one of the most rewarding and fulfilling vocations, but the huge responsibilities it entails can take their toll on teachers' mental wellbeing.
Teacher wellbeing can often be overlooked by leaders and the teacher themselves. Mental health issues have been intensified considerably in the wake of COVID-19, with 52% of teachers saying that their mental health deteriorated during the pandemic. Here at Teaching Personnel, we understand the importance of mental wellbeing and we've provided these top tips that leaders can use to support their staff in such turbulent times.
Provide teachers with a more manageable workload
There are a range of steps that leaders can take to manage the wellbeing of teachers in a post-pandemic world and reducing their workload can have a major positive impact on their mental health.
Excessive workloads and built-up deadlines can lead to a snowballing of work that results in stress, anxiety and feelings of exhaustion. Managing workloads is a responsibility that must be shared between the teachers and the employer. With an efficient culture of collaboration and teamwork in place, workloads can be distributed throughout the team, providing each teacher with a manageable amount of work.
A teacher's workload can also be reduced by providing them with access to extra resources and technology that can reduce the time taken to complete tasks. For example, there are a range of resources that can:
Reduce marking time

Help teachers keep track of student data and progress
Streamline communication with parents and peers
Provide the opportunity for flexible working
If schools can implement changes in technology and resources, they can take a significant step towards improving teacher wellbeing.
Create a more open culture
Creating an open working environment and a culture where teachers are encouraged to talk about their wellbeing is crucial to supporting mental health issues. It's worth keeping in mind that teachers may not be aware of the support available to them until you reach out.
Promoting an open culture can be as simple as sending staff an email to let them know where they can go to talk about their wellbeing. Encourage them to be open about their work-life, or personal life if they desire, and take advantage of what can be a vital support network.
Once your staff are aware that they can be open and share information about their current state, you can then begin to find solutions to work-related issues and, in turn, improve their wellbeing.
Let teachers know that they are appreciated
This may go without saying but praising teachers and showing how much they are appreciated can go a long way towards supporting their mental wellbeing. Teacher appreciation can be shown in many ways including, providing any extra resources that they need, complementing them for their hard work through difficult times and celebrating any milestones or achievements.
Creating a culture of recognition helps employees see that their company values them and their contributions to the success of their team and the company overall. This is particularly important for teachers as it helps them build a sense of security in their value to the school, motivating them to continue great work which, in turn, benefits the students.
Provide training for staff
Recognition of issues regarding mental health and the importance of tackling them head-on is more important than ever. It's imperative that all employees, particularly leaders, help to identify when a member of staff needs support. Schools can provide their staff with further training to help them enhance their empathy skills and show them how they can help if a fellow colleague is in need.
Schools can also improve teacher wellbeing by providing their staff with vital training on managing stress and recognising signs that a colleague may be experiencing mental health issues. Training modules should promote a healthy work-life balance culture, introduce coping mechanisms for stress and anxiety, and offer employees more support than ever.
Join one of the largest teaching networks in the UK
We provide permanent and supply teachers to over 5,000 schools every year, cementing our standing as the leading supply teacher agency. Register today and join the UK's largest flexible workforce of teachers in the country and be part of our effort to provide the best education to students.


Keeping Children Safe: Practical Steps and Resources for Primary Schools 
Summary
While it is true that "accidents will happen", keeping children safe and preventing as many accidents as possible should be a concern of every school. By raising awareness of risk sensitively, schools
Read more Breaking the Stigma: How Teachers Can Support Children's Mental Health in the Classroom
Summary
In the last three years, the likelihood of young people having mental health problems has increased by 50%. According to a report by The Health Foundation, one in six children aged six to 16 in Englan
Read more Using AI to Reduce Teacher's Workload
Summary
In 2023, it is impossible to watch the news without an item discussing the threats posed and potential benefits offered to society by Artificial Intelligence (AI).  Most people, by now, will have t
Read more Embracing Flexible Work in Schools
Summary
There is little doubt that school leaders across the country are facing a recruitment and retention crisis. It is a simple yet frustrating equation; fewer people are entering the workforce than ar
Read more Why schools should book cover for September now
Summary
Teacher recruitment is a critical aspect of any school's success. Finding the right teachers and support staff to lead and inspire the next generation of students is no easy task, and it is one th
Read more Why retired teachers make the perfect tutors
Summary
When you worked as a teacher, you may have looked forward to retirement, as it meant having more time for leisurely activities or spending more time with loved ones. However, the novelty of retire
Read more Chartered College of Teaching Partnership
Summary
Teaching Personnel is proud to announce a new partnership with the Chartered College of Teaching, the leading professional body for teachers and teaching assistants. This partnership will provide
Read more Increase your teaching talent with the Future Teachers Programme
Summary
The current teacher shortage is set to be one of the main challenges for the UK in 2023. The number of graduates entering the profession is decreasing, while the number of teachers leaving has in
Read more How do I know I want to be a teacher?
Summary
Teaching can be an enriching and fulfilling profession. If you want to make a difference in someone's life, there is no better job than to teach. Like doctors, nurses and vets, teaching is more than
Read more