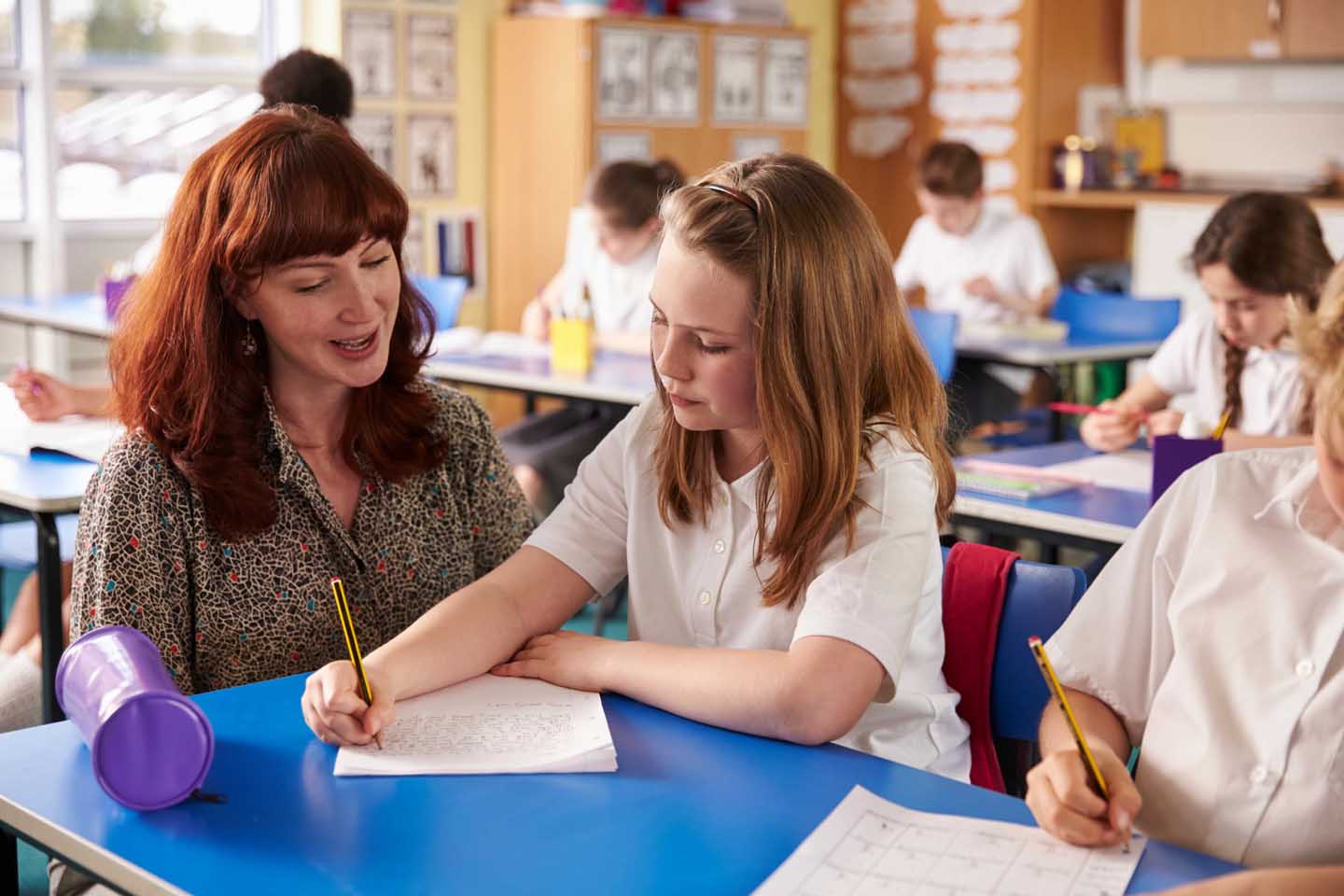 National Teaching Assistants Day - nominate your classroom champion 
Date posted :
05 June 2023
There are around 295,000 teaching assistants (TAs) working in schools across England and Wales. Today, teaching assistants play a crucial role in supporting students and teachers. In 2022, TAs accounted for over a quarter (28%) of the school workforce in mainstream schools in England and Wales and are often found in schools with high levels of disadvantage.
Daily, TAs dedicate themselves to supporting teachers and enriching education through collaboration and guidance. To mark the great work that teaching assistants do in schools, National Teaching Assistants Day takes place on September 29th 2023. 
To celebrate the work of TAs and the difference they make, schools can nominate a teaching assistant who goes above and beyond for pupils, for the National Teaching Assistant of the Year award. This year, there is also a new category for Higher Level Teaching Assistants, who have additional responsibilities and training.
championed diversity and inclusion

gone beyond their responsibilities to support

students

 

changed a particular student(s) life.
TAs making a difference in education
TAs have positive effects on teachers by supporting their overall workload and reducing stress. Statistics show that 96% of headteachers believe TAs add value to their schools. And their work was particularly prominent during the COVID-19 pandemic, where TAs played an invaluable role, supporting schools by covering absences, supporting pupils of key workers when schools were partially open, forming bridges between parents and schools, and following up on home learners.
Teaching assistants provide support by helping to oversee the class. They assist students who have questions, need encouragement, or need help with assigned tasks.  Schools may also deploy TAs in other supervisory roles, such as after-school clubs, lunchtime supervision, and lesson cover.
Let's celebrate National Teaching Assistants Day
At Teaching Personnel, we will be observing National Teaching Assistants Day. Their hard work and dedication deserve recognition! Every day, we recognise the vital role TAs play in supporting students and teachers. Teaching assistants make classrooms work, and we believe that our TAs are superheroes in the classroom! 
Interested in working as a teaching assistant? 



5 Tips for Managing Your Teaching Workload
Summary
Teaching is a rewarding profession that plays a crucial role in shaping our society's future. However, it comes with its challenges. The workload can be demanding, which might sometimes lead to feelin
Read more



Keeping Children Safe: Practical Steps and Resources for Primary Schools 
Summary
While it is true that "accidents will happen", keeping children safe and preventing as many accidents as possible should be a concern of every school. By raising awareness of risk sensitively, schools
Read more Breaking the Stigma: How Teachers Can Support Children's Mental Health in the Classroom
Summary
In the last three years, the likelihood of young people having mental health problems has increased by 50%. According to a report by The Health Foundation, one in six children aged six to 16 in Englan
Read more Using AI to Reduce Teacher's Workload
Summary
In 2023, it is impossible to watch the news without an item discussing the threats posed and potential benefits offered to society by Artificial Intelligence (AI).  Most people, by now, will have t
Read more Embracing Flexible Work in Schools
Summary
There is little doubt that school leaders across the country are facing a recruitment and retention crisis. It is a simple yet frustrating equation; fewer people are entering the workforce than ar
Read more Why schools should book cover for September now
Summary
Teacher recruitment is a critical aspect of any school's success. Finding the right teachers and support staff to lead and inspire the next generation of students is no easy task, and it is one th
Read more