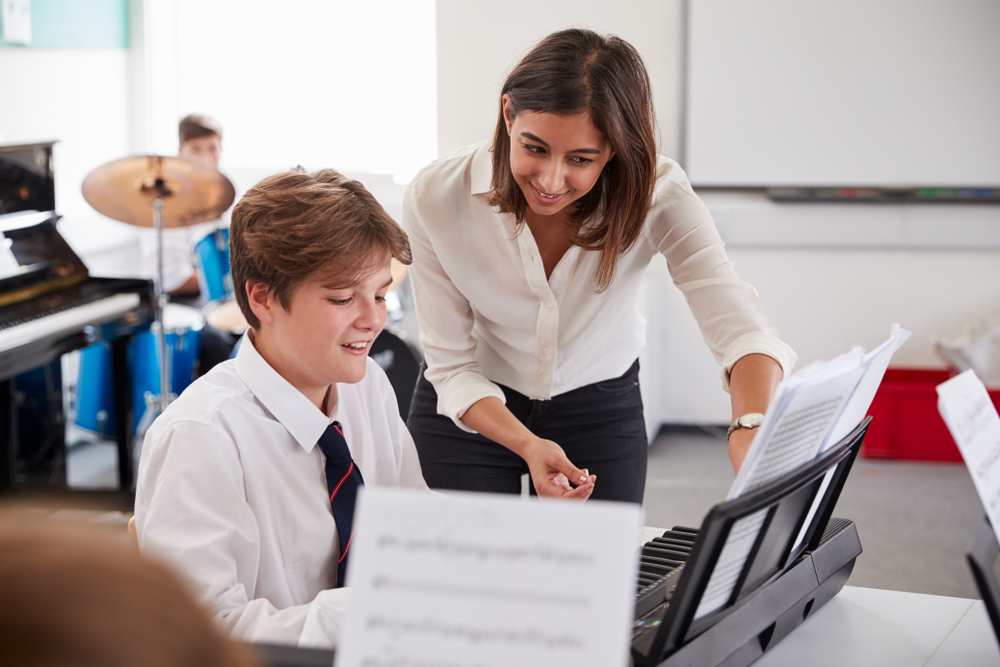 What are the Top Skills You Need to be a Standout Music Teacher?
Date posted :
06 October 2021
A great music teacher can have a huge influence on a pupil's love for a subject. Interesting and engaging lessons will increase the likelihood of a student applying themselves and developing a passion for music. Learning to play an instrument can change children's lives, and it is a music teacher's job to make that process as memorable and enjoyable as possible.

Recent studies show that learning how to play an instrument or creating music is one of the best ways to stimulate a young mind, and even improves brain functionality. Therefore, it's important that a music teacher has all the skills necessary to make a difference in their student's lives. Here are the top skills that you need to be a standout music teacher.
Making Lessons Fun
Learning music takes a lot of hard work, but that doesn't mean that the lessons shouldn't be enjoyable. A talented music teacher will have a great understanding of how to make a music lesson both effective and fun. The more the student enjoys their lessons, the more motivated they'll be to apply themselves and achieve the desired results.
As a teacher, you can make lessons fun by expressing your personality and enthusiastic approach to music. Engage with the student and ask them what they enjoy playing, or a new song that they heard and would like to learn how to play. Once they've told you their preference, you can then build a lesson around that theme. You could even duet with them to make the lesson extra engaging!
Improving a student's skills
Correcting mistakes is an important part of a music teacher's role, and you should actively listen to the students playing and identify problems as they're happening. It's important that you know how to identify issues as, if they are left unattended, the student can pick up long-term bad habits that become much harder to correct.
However, it's important not to discourage the student from making mistakes. After all, making mistakes is how we learn. Some teachers fall into the trap of correcting every mistake that a student makes without also providing room for praise. Improved performance can only come from a balance that ensures the student feels valued.
Creative teaching methods
Cast your mind back to your own school days. You'll probably remember plenty of instances where your teacher was explaining something to you, but you just couldn't seem to understand or grasp what they were telling you. This is as common an occurrence in music lessons as any others. After all, in creative subjects, every student has a different way of learning things.
A great music teacher can come up with fresh ways to explain a concept to a student. Whether the student is particularly proficient in music, or a complete beginner, a talented teacher will articulate the content of the lesson in different ways until they grasp it.
A Love of Music
Above all else, a clear passion for music is the hallmark of a standout music teacher. It doesn't matter if the teacher is a permanent staff member or a supply teacher for the day; consistent passion throughout a lesson is what counts. A teacher's love of music should be contagious.
The best music teachers are not only passionate about the genres they specialise in. They should express love towards music as an art form with an eclectic scope. Demonstrating one's musical expertise is not enough to inspire students. Rather, learners will identify better with teachers who are genuinely enthused about the subject.
Find your new music teacher role with Teaching Personnel
If you feel that you have all the skills to be a great music teacher, then we want to help you find a brand-new role. Teaching Personnel is the UK's leading education recruitment agency. We place newly qualified teachers, fully qualified teachers and support staff in supply jobs at thousands of schools every year. We have years of experience in finding the best candidates for education jobs, so browse our music teacher jobs and find your next role.
Music Teacher Secondary School
Salary
£120 - 280 per day
Location free text
Stepney
Salary
£100 - £199 per day
£200 - £299 per day
Description
Music Teacher - Secondary School Stepney LondonAre you an ambitious Music Teacher looking for a new opportunity?Would you like to secure a new position in a school that matches your visions and values

More Info
Shortlist
Music Teacher
Salary
£30,000 - 46,525 per year
Location free text
Burnley
Salary
£30,000 - £39,999
£40,000 - £49,999
Description
Teaching Personnel are recruiting for a Teacher of Music to join our valued client school in the BB10 area of Burnley, Lancashire.Job descriptionWe are looking to appoint a Teacher of Music to start i

More Info
Shortlist
Music Teacher
Salary
£140 - 200 per day
Location free text
Northamptonshire
Salary
£100 - £199 per day
£200 - £299 per day
Description
Position: Music Teacher Location: Corby, Northamptonshire Contract: Part-time, 4 days per week  Start date: ASAP Exceptional teachers create exceptional results; they transform lives and transform fut

More Info
Shortlist
Music Teacher
Salary
£140 - 225 per day
Location free text
Rawtenstall
Salary
£100 - £199 per day
£200 - £299 per day
Description
Are you looking to share your love of music with enthusiastic students, within a secondary school that has well-resourced Music facilities and regular opportunities for popular performances? If the an

More Info
Shortlist
Sociology Teacher
Salary
£153.84 - 211.96 per day
Location free text
Winterbourne
Salary
£100 - £199 per day
£200 - £299 per day
Description
Are you a sociology teacher comfortable teaching A-level? Or are you a humanities teacher that is comfortable teaching Sociology? If so, one of our partner schools need your help!The school, based nea
Reference
SM 18/09 Sociology

More Info
Shortlist
Teacher of Music
Salary
£28k - 43k per year
Location free text
Yateley
Salary
£100 - £199 per day
£200 - £299 per day
Description
Exciting Opportunity: Music Teacher for Secondary School in Yateley Are you a passionate and talented Music educator? Do you thrive on nurturing students' creativity and love for music? If so, we hav

More Info
Shortlist
Music Teacher
Salary
£30,000 - 44,496 per year
Salary
£30,000 - £39,999
£40,000 - £49,999
Description
Are you a passionate music educator searching for an exciting opportunity to inspire the next generation of musicians? Look no further! We are thrilled to announce an opening for a full-time Music T

More Info
Shortlist
Music Teacher
Salary
£28,000 - 43,685 per year
Location free text
Bournemouth
Salary
£100 - £199 per day
£200 - £299 per day
Description
We have an opportunity for a talented Music Teacher to join our client school in Bournemouth.We are looking for a dynamic and highly motivated Teacher of Music who is committed to academic excellence
Reference
Music Bournemouth

More Info
Shortlist
Music Teacher
Salary
£140 - 180 per day
Location free text
Hounslow
Description
Music Practitioner – September 2023 start dateWe are currently recruiting for a Music Practitioner who is available to work full time based in a fantastic secondary school for children aged 11-18 in t

More Info
Shortlist
Music Teacher
Salary
£28,000 - 43,685 per year
Salary
£20,000 - £29,999
£30,000 - £39,999
£40,000 - £49,999
Description
MUSIC TEACHERSALARY: MPS - UPSHOURS: FULL TIME (PART TIME HOURS WOULD BE CONSIDERED)CONTRACT TYPE: TEMPORARY TO PERMANENTCLOSING DATE: FRIDAY 29TH SEPTEMBER AT 9AMINTERVIEW DATE: TBCJOB STARTS: OCTOBE

More Info
Shortlist



5 Tips for Managing Your Teaching Workload
Summary
Teaching is a rewarding profession that plays a crucial role in shaping our society's future. However, it comes with its challenges. The workload can be demanding, which might sometimes lead to feelin
Read more




Keeping Children Safe: Practical Steps and Resources for Primary Schools 
Summary
While it is true that "accidents will happen", keeping children safe and preventing as many accidents as possible should be a concern of every school. By raising awareness of risk sensitively, schools
Read more Breaking the Stigma: How Teachers Can Support Children's Mental Health in the Classroom
Summary
In the last three years, the likelihood of young people having mental health problems has increased by 50%. According to a report by The Health Foundation, one in six children aged six to 16 in Englan
Read more Using AI to Reduce Teacher's Workload
Summary
In 2023, it is impossible to watch the news without an item discussing the threats posed and potential benefits offered to society by Artificial Intelligence (AI).  Most people, by now, will have t
Read more Embracing Flexible Work in Schools
Summary
There is little doubt that school leaders across the country are facing a recruitment and retention crisis. It is a simple yet frustrating equation; fewer people are entering the workforce than ar
Read more