Help in-need pupils thrive again with your official NTP partner
639 schools across the country relied on Teaching Personnel to lift the prospects of their most disadvantaged pupils during the first year of the National Tutoring Programme.
For the NTP's second year, we are expanding our mission. Every day, our experienced educators are bringing impactful, small-group tuition to even more children in even more schools.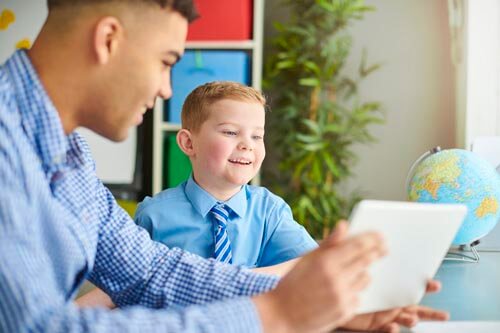 Teaching Personnel

's NTP guarantee
Nationwide availability of tutors.
Intensively trained tutors
Stringent vetting and full DBS check
All key stages and subjects covered
One-to-one, one-to-two and one-to-three tuition packages
In-school and online tuition options
We contacted Teaching Personnel who were absolutely amazing and listened to our needs and quickly found us a tutor with a background in working with pupils with SEND. Amanda, our tutor, joined us this term and is a qualified SEND coordinator and has previously worked in a special needs school, so we are really pleased.
.. tutors were great and built quick and supportive relationships with our teachers, parents and children. The 'Individual Tuition Plan' and 'Passport to Success' provided an ideal framework to monitor provision. The children gained confidence very quickly and were able to transfer their new skills into their learning.
It's been excellent. The school has done a lot of work to make the process very strong but the quality of the tuition Teaching Personnel are providing is excellent.
Tutor Impact

Report

During year one of the National Tutoring Programme, Teaching Personnel tutors delivered tuition to under-privileged children in primary, secondary and special needs schools across the country. Our impact report highlights the positive impact these sessions had on their educations.

Download the report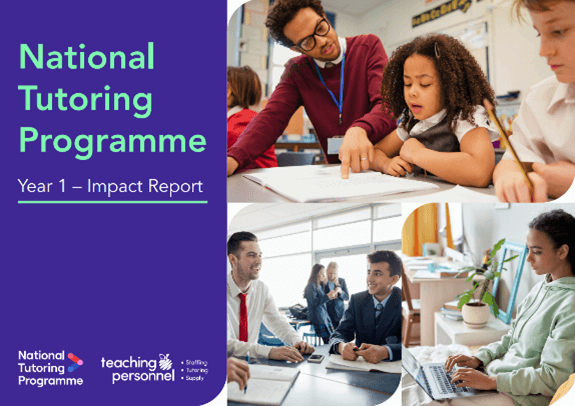 Our NTP journey in numbers
National Tutoring Programme Resources
School-Led Tutoring Grant
New from the NTP in year 2 is the School-Led Tutoring Grant, funds paid direct to schools three times a year, ring-fenced for the provision of one-to-one and small group tuition. Make sure you are getting the most from your funding.
NTP Webinars
Teaching Personnel run free webinars for schools providing expert help and advice on the most important issues for schools including NTP and SLTG. Sign-up for future webinars or watch recent events on demand.
Our approach
We will help you provide tuition programmes for your disadvantaged pupils and support the NTP using the following framework:
Specialist Service
Specialist tuition managers are in place who are experienced in working with LAC, virtual schools, SEND pupils and intervention placements.
Tutor Availability and Recruitment
We recruit tutors who are skilled/trained in this area and have the characteristics, life experience and empathy to work with disadvantaged pupils. We will provide additional training where necessary to support tutors working with these groups. Teaching Personnel has thousands of tutors available now to help support disadvantaged pupils as part of the NTP.
Tutor Selection
We communicate carefully with schools to assess and understand the needs of specific pupils and groups. When deploying a tutor, we work with schools to understand not just the learning requirement but also the personality and specific challenges of the pupils. We select the best tutor to engage the pupil in learning and make it relatable to their everyday life. This also informs careful selection of 1:1 or small group, face-to-face or online tutoring as the most appropriate.
Assessment and Feedback
We will use our online assessment tool (via our partner EdPlace) which quickly and efficiently identifies areas requiring intervention. This tool will help to engage pupils in their own tutoring journey from the outset allowing them to see how much progress they have made. We will also use this to identify resources and approaches that are context-specific and most likely to succeed with disadvantaged pupils as well as being age and curriculum appropriate.

Our new LEAP portal will also ensure feedback is monitored after each session. This reporting system provides actionable insights on attendance and progress, ensuring all pupils, including the most disadvantaged, are not left behind by ensuring swift intervention is delivered when required. Using our feedback systems, we will seek to identify pupils who are at risk of disengaging and adopt relevant tools and strategies to help address these issues with schools.
Read more about the National Tutoring Programme on its website
Delivery options
Our proposed model as an NTP Tuition Partner is to provide in-school tuition face-to-face to small groups of up to three pupils. Sessions will be in 15-hour blocks, with the options of:

1x 1-hour session a week for 15 weeks
2x 1-hour sessions a week for 7-8 weeks
2x 30-minute sessions a week for 15 weeks
Where group tuition is not appropriate for some children, we can also offer programmes on a 1:1 basis.

Where preferable or in the event of pupils not being able to attend school, we are able to move all programmes online.